Joy of Giving Week updates


The Annual Renewal Requirements for Listing


Feedback Updates


DO Optimization (DOOP) Updates


Disbursement Data – Jul 08, 2009


New NGOs in GiveIndia Family
---
Praful N. Vyas, Hon. Secretary, Andhjan Kalyan Trust has been awarded the prestigious "Late Dr. Jagdish
Patel Pragnachakshu Pratibha Paaritoshik" by National Association for
the Blind, Gujarat State Branch for his enormous contribution in
the field of Computer Education
and Modern Technology for Blind people in Gujarat.
NGO Partnership for Progress – to promote inclusive growth
Planning commission of India invites all voluntary organizations / NGOs for a free sign up on the NGO Partnership system (NGO-PS) Get details of existing VOs /NGOs across India, grant schemes of key ministries/ departments, status of your grants application and much more.

Lifebuoy National Child Health Award for NGOs
Lifebuoy National Child Health Award is recognition to the exemplary work done by NGOs in each of the following five areas of child health.
1. Child Nutrition
2. Hygiene
3. Environment
4. Education
5. Social Space
Submit a 15 slide presentation before 5th Aug, 2009. Please contact IPAN HILL & KNOWLTON officials Rekha /Rucita at rekha.rao@ipan.com
ruchita.shah@ipan.com
Or call 022 40661762/40661774 for details of the presentation.

The Manthan Award South Asia 2009
Last date for filling in Nominations – July 31, 2009. Email # manthanaward@defindia.net or Log on to http://www.manthanaward.org for more details

WeMove Foundation
They specialize in different forms of theater like Street Plays, Interactive Theater, Absurd Theater and Simple Theater and help NGOs spread their objectives to the society through theater. They also conduct workshops for NGO inmates and also do productions and performances for them. Please visit www.wemove.in to know more about their services.

Opportunities in Challenging Times
A workshop for NGOs organized by CSO Partners on 14th & 15th September 2009 in Secunderabad.
Email: workshop@csopartners.org.in or visit www.csopartners.org.in
Disbursements: sambhaji@giveindia.org
Accounts: shiraj@giveindia.org
Feedback: feedback@giveindia.org
Internet/iGive: tarika@giveindia.org
Listing: listing@giveindia.org
 
NGOs preparing annual reports for the year 2008-2009….
look at GiveIndia's annual report which also contains other legal and financial information.
Click here
| | |
| --- | --- |
| ? Help GiveIndia spread this message by adding this to your website, blog and e-mail | |
Other ways to connect with GiveIndia:
*Join GiveIndia's community on Orkut

*Be part of the GiveIndia cause on Facebook

*Become a member of GiveIndia's cause on My Space

---
NGO Feedback Efficiency Ratings
View NGO feedback efficiency ratings as of July15, 2009.
GiveIndia Newsletter, July 2009

GiveIndia and GuideStar India join forces to manage NGO registrations for the Joy of Giving Week (JGW). Download Registration forms
Read the coverage about JGW in Wall Street Journal Indian Edition. Click here
JGW workshop in Hyderabad – July 22, 2009
133 participants from NGOs across Andhra Pradesh attended the Joy of Giving Week workshop at the Press Club in Hyderabad. Besides understanding the concept of the joy of Giving Week and how they could exploit the opportunities it presented, NGOs decided to collaborate. Pushpa from GuideStar India explained the NGO registration process.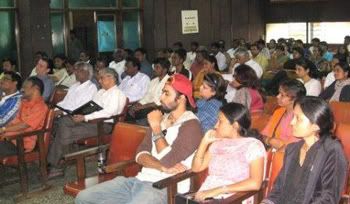 Hyderabad JGW Workshop
The Annual Renewal Requirements for Listing
Annual Report & Financial Documents for Annual Renewal 2009
Click here
Extract from a good feedback document sent with a clear photograph
Brief Description:
Even after 60 years of independence, women in India can hardly be called independent. Gender discrimination for the female begins at conception and continues to the end of her life. This is particularly true of the financially under privileged. By empowering poor girls through education we hope that at least some of them will be able to break out of this vicious bondage. Karnataka provides free education till class 7. For the past few years we have been helping girls to continue schooling, who otherwise would have had to drop out of school and may be, end up as maids in other peoples' homes.
Personal story:
Sushmita was a student of our adopted government school. As she is a fairly good student (her marks are in the sixties) we helped her financially to get admission in a private school. Her father works in a farm. Mother supplements their income by doing some tailoring. The family income is around INR 3500 (less than US$ 80) per month and the family consists of four members.
DO Optimization (DOOP) Updates
We started the DOOP exercise in mid May and have connected with 55 of our listed NGOs till now. We plan to complete the exercise by the end of September. We require your highest cooperation in responding to the queries in Section B sent along with the email / reminders.

List of NGOs who completed DOOP in July
Amar Seva Sangam
Ananya Trust
Andhjan Kalyan Trust
ASSIST
Catalysts for Social Action
Christel House India
The National Association for the Blind- Karnataka Branch

Atma Nirbhar - Ek Challenge' about DOOP exercise
We are sincerely grateful to you for helping us and guiding us to re-design the 'Donation Options'. The results are very evident from the number of disbursements received in the month of July 2009! We could never have done the re-designing part without your patient guidance. We cannot thank you enough for this support from you
Jun 10, 2009 Regular Disbursement for Rs.41,99,001


Jul 16, 2009 Regular Disbursement for Rs 4,098,765
Offline - Rs. 4, 53,924 , Give Account - Rs. 18, 86,573 , Non Give Account - Rs. 17, 58,268
Payroll Giving program Updates
PRG program has tied up with more companies and more employees get opportunity to Give! At Aditya Birla, over 500 employees have signed up with an average contribution of Rs.200 per month. We are getting good conversions at Religare and Wartsila too.
New NGOs in GiveIndia Family- May 2009
Sathi, Bangalore

Devashrayam Charitable Society

Sarbik Gram Bikash Kendra

SERUDS

VAANI, Deaf Children's Foundation

Masters Trust

Sita Gramuodyog

Integrated Development Foundation